For the last couple of days, I've been making this
salad as a side dish or a snack and it's insanely good,
so last night I decided I'd take a photo to post here.
It's baby greens with shredded Morningstar Farms
Chik'n Nuggets, dried cranberries, feta cheese,
& creamy italian (or sometimes greek vinegarette).




click for larger photos

Today, I made seasoned red potatoes without knowing
what I was doing & they actually turned out good.
I used italian seasoning, garlic powder, salt,
pepper, lime juice, and butter, but now that I think
about it, I wish that I would've used lemon pepper.
Oh well, they were pretty good without it.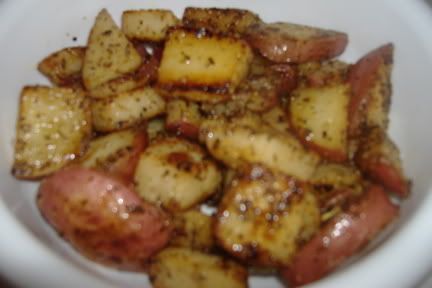 click for larger photo

I also tried out a recipe that I found on vegcooking.com.
It's called Greektown Pizza and here is the recipe.
I didn't follow the actual measurements in the
recipe and I left out the peperoncini and the
olive oil, added feta cheese, I used a tortilla
instead of a pizza crust, and I forgot the
salt & pepper, but the idea is the same.
It was pretty good. Next time I'll probably add green olives.
This would be a good appetizer for a party,
because of it's quickness and cheapness to make.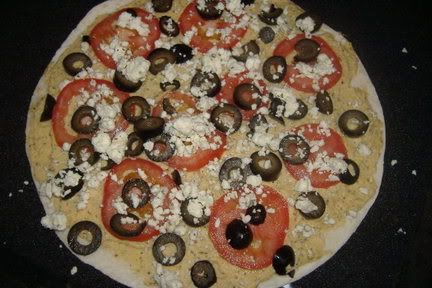 before the oven.
click for larger photos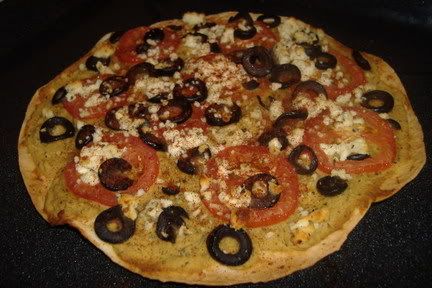 after the oven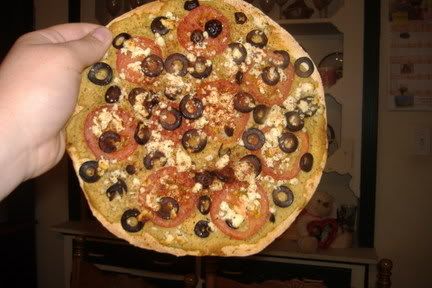 I thought that it was funny that nothing fell
off of the pizza when I held it like this.
click for larger photos