I wish I would have started this about a week ago, so
you guys could see my stir fry & spinach macaroni bake.
Last night, I made taquitos, though.
I used

.
I blended the chik'n in the food processor with cheese, the steak
with cheese & green onions, and then some spinach that i
seasoned with butter, salt & pepper) with some mozzarella (or jack).
I spooned the mixtures into tortillas, rolled them up, then secured
them with toothpicks and baked them at 400 degrees for 18 minutes.
You can dip them in salsa or sour cream.
Delicious!
My brother even ate some of the chicken ones
and he usually doesn't like my fake meat foods.

By the time I thought to take photos,
only 2 spinach taquitos were left.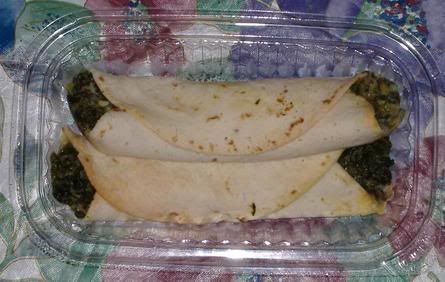 click for a larger photo