I finally went grocery shopping last night,
so now I'll actually cook something good.
Last night, I whipped out my bread maker
that I bought from a garage sale for $2.
At first, I didn't think it worked, because
it wasn't getting hot, but after leaving it on
the full time it's suppose to be on with nothing it
in, I realized that I'm an idiot & it does work.
I've yet to cook anything in it, though.
I have baked 3 loaves of banana bread in my oven.
Last night I found a recipe online and tried
making it in the bread maker, but after
assuming that it didn't work I put it in the oven.
It tasted pretty good, but it was a little chewy.
I don't remember where I got the recipe, but it had
flour, sugar, salt, butter, bananas, & baking powder.
It didn't need baking soda or yeast, which I didn't have.
Like I said, it tasted good, but it was chewy.




click for a larger photo

Then before lunch today, I made another 2
loaves of banana bread, this time using
bakind soda and dried cranberries as well.
It was one batter, but I wasn't sure how
much it would rise, so I divided it into two.
It didn't rise a whole lot, but I'm glad I made 2
loaves, because I'm going to be giving one away.
Next time, I'll just make one loaf using
that recipe, which is this one and I just
added a handfull of dried cranberries.
I should also note that the only baking that
I've ever done in my life has been from a box.
This was the first time I'd ever made anything from scratch.
It really surprised me that it tasted good. Haha.




click for larger photos

For lunch, I made a cheesesteak poboy.
I used Morningstar Farms meal starters steak strips.
I sauteed some green bell pepper and onion, added
the "steak", put it all on a toasted poboy bun, added
cheese, spicy mustard and some tomato (after the photo).
It was definetly one of the best sandwiches I've ever had.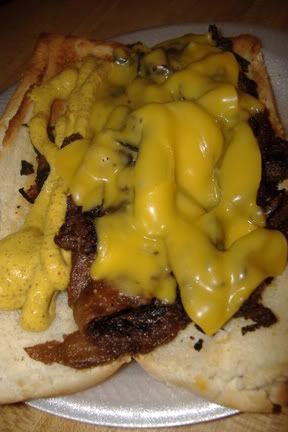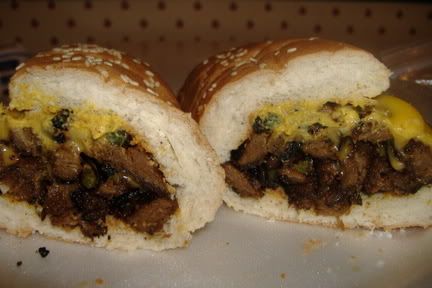 click for larger photos

Tonight, I'm making dinner for a myself and a friend,
who is a meat eater, so expect another entry soon.